Whenever you're in need of a bat control expert or master to supply bat control you have discovered Michigans bat control group. Here at VaMoose Varmint Bat Control Services the bat control professionals of Michigan is set up to assist you translate the concept of bat control through your eyes. We'll present to you the what's and whys. We're sure our bat control ways will work at your bat troubles. VaMoose Varmint bat control Services warranties our services.

About Our Company:
Dan also provides bat control in these following counties: Gogebic county, Baraga county, Houghton county, and Keweenaw county. Daniel has been offering bat control in the Upper Peninsula of Michigan going on to his fourth year.

VaMoose Possess Proper Permits and Liability Insurance.

VaMoose Varmint is a privately owned and operated business that specializes Bat Control in Michigan.

Our Mission:
VaMoose Varmint is Committed to Provide Superior Quality and Services that Consistently Exceed our Customers Expectation.

Company Profile:

VaMoose Varmint have Nationally Certified Wildlife Damage Professionals (CWDP),graduated from the National Wildlife Damage Management Academy. (NWDMA)

Nationally Certified Bat Exclusion Professionals (CBEP).

Michigan Animal Damage Control Association (MADCA) certified.

Certified Master Trappers.


VaMoose Varmint operators are active members with the National Wildlife Control Operators Association (NWCOA) and the Michigan Animal Damage Control Association (MADCA).


Phone: 989-390-5712

VaMoose Varmint! Bat Control and Bat Problem Pro in the Upper Peninsula. We Service these counties for bat control, and bat problem: Gogebic county, Iron county, Ontonagon county, Baraga county, Houghton county, and Keweenaw county. CALL NOW for a free over the phone bat control or bat problem consultation.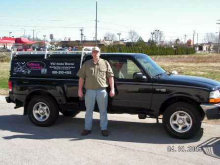 WEST UPPER PENINSULA MICHIGAN BAT CONTROL, AND BAT PROBLEM PRO
© Vamoose Varmint, LLC. All Rights Reserved. All images, text, graphics and materials are protected by U.S. and International copyright laws.
News for Bat Removal in the Upper Peninsula of Michigan
We will be back into the U.P. in Mid July for bat inspections and return mid August to complete all bat evictions and service any other additional customers who request our assistance.
It is never to late to call, We will be happy to talk to you about your bat problem.