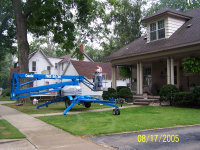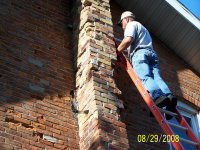 BAT PROFESSIONAL REFERRAL SIGNUP
Man lift on a bat exclusion job.
Bat exclusion on brick chimney.
PROFESSIONAL SIGNUP
Is the placement of your web page not ranking in the top 20 of Google or you would like more exposure because you do not have a web page. Are you tired of paying high rates for phone book ads? Or just want to try something new in company exposure? The World Wide Web is the way to go. The internet is the new wave of technology for people to find you and to hire your services. The internet is increasing in usage on a yearly basis. It does not look like the internet is going away for consumers in finding your services. People are using it all the time and shows it is only increasing every day. Here at VaMoose Varmints we have seen an increase of sales just from the internet web site in bat work as in other wildlife problems.
This web page was specifically designed to keep you our fellow NWCO's working in their states or operating areas. The staff at VaMoose Varmint Wildlife Services is here to help you help yourselves! Let a wildlife control company take care of our fellow professional NWCO's. At end results we expect you will receive more contacts by having increased exposure on the internet and making it less of a chore for potential clients with bat problems to locate you and your company. We will accomplish this task by providing a web site page that can be found by potential customers. Your web page referral will be placed on two separate web pages designed specifically for bats. A potential customer will locate our listing on your services. They will locate you by an easy to navigate web page. The potential client will select the link icon in an available county you have reserved for your bat control company forwarding them to a designed page specifically about you and your company. Placement criteria would also need to show proof of company liability insurance and proper permits or licensing for that state requested. We will provide our services at a reasonable rate and a timely manner. Our rates for placement is affordable compared to phone book ads, and possibly other internet advertising. This service is a first come first serve basis only. I will only place ONE listings per county!
If you are interested in trying out our services please contact Dan at this email address: probatcontrol@vamoosevarmint.com
A one year service agreement and subscription is required to obtain a listing. Listings on VaMoose Varmint's Bat Directory Services are running $15.00 for the first initial state and county per month up to 4 counties. Every additional county will be running $10.00 ea per month. Select the quantity of counties you are looking to subscribe to and select subscribe. In the blank field fill in the state and counties requested separated by a comma.
© Vamoose Varmint, LLC. All Rights Reserved. All images, text, graphics and materials are protected by U.S. and International copyright laws.