© Vamoose Varmint, LLC. All Rights Reserved. All images, text, graphics and materials are protected by U.S. and International copyright laws.
Contact Us: Phone: 520-743-1411
Arizona Bat Control, Bat Problem Tucson, Pima County, Maricopa County
Desert Wildlife Services Is a privately owned company that provides Bat Control for your Bat Problem. Desert Wildlife Services are available in Tucson Arizona. We Service these counties for bat control, and your bat problem: Tucson, Pima and Maricopa County. CALL NOW to lineup a bat control inspection for your bat problem with this Tucson Expert.
TUSCON BAT CONTROL
TUSCON BAT PROBLEM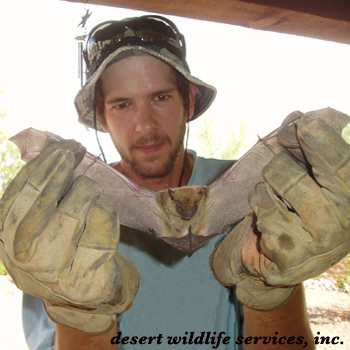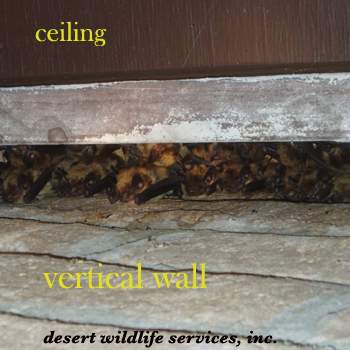 This bat colony was controlled by Desert Wildlife Services. The client needed Dave to provide bat control to resolve this bat problem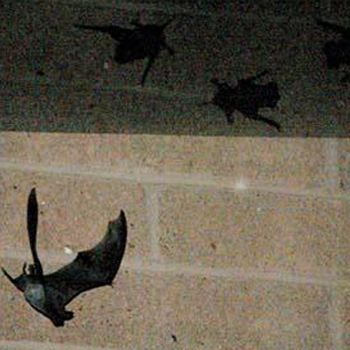 Desert Wildlife Services bat control solving this bat problem by using one-way netting at a school in Sierra Vista and bats leaving for the last time.
Mike is the expert bat control specialist of Desert Wildlife Services providing bat control for this customers unique bat problem.
Desert Wildlife Services settles conflicts between man and wildlife. We're properly authorized by the Arizona Game and Fish Department and are amply insured.
We supply bat control, for bat problems and deal with just about all wild animal species. Besides our expert bat control and bat problem responsibilities Desert Wildlife Services execute control and problem solving services for snakes, raccoons, skunks, squirrels, geese, coyotes, woodpeckers, gophers, rats, pigeons, bobcats, feral cats and badgers. We as well provide trap rentals, consultation services, and we're also an authorized Bird Barrier product installer. Please ask about our rattlesnake avoidance courses for your dog. We also provide snake aversion courses year round.
we're ready for the smallest bat control job to the largest bat problem jobs, extending our service at competing rates. Our primary region of operation centers on Tucson and Pima County, includingOro Valley. We're oftentimes available to offer bat control for bat problems in Green Valley, Marana, Avra Valley, Vail, Catalina andSahuarita. Please contact us regarding bat control for your bat problem in Maricopa County and the greater Phoenix region. If we can not get there, we'll line up a professional bat problem company that can perform bat control in your region. Among Desert Wildlife Services strengths is in the humane control and removal of problem bats occupying homes, porches and commercial structures.
The bat is an unusual flying mammal, typically performing us a service by removing masses of bothersome nighttime insects. Largely, the bat executes their nighttime duties, and then disappears during the day, causing most householders no harm or property damage.
Arizona is the home to approximately 28 bat control species, but most don't roost in buildings on a daily basis. Structural roosting bats in southern Arizona typically comprise of the following bat problem species needing a bat control specialist:
Western pipistrelle bats (Pipistellus hesperus)

Big brown bats (Eptesicus fuscus)

Mexican free-tailed bats (Tadarida brasiliensis)

Pallid bats (Antrozous pallidus)
Bat control of a bat problem that is required in or on structures, could be classified in at least five ways:
The nighttime roosting bat. Nighttime roosters are "taking a break" from their forging act, and roosting on walls, porch beams, and where the bat is safe. This type of bat species is not commonly gaining entree to the structure, just oftentimes leaves urine streaks down walls and beams, and bat guano or bat droppings beneath their roost.

The daytime roosting bat. Daytime roosters are often witnessed in similar areas as the preceding night roosters, and same urine streaking and guano collection will often take place. Daytime roosting bats had better be addressed with added precaution, as it is normally rare for bats to allow themselves exposed to sunshine, particularly in exposed areas where they are susceptible to assault by predators.

Bat colonies. Colonies of bats in buildings are typically not viewed roosting on the exposed regions of homes, structures, walls, etc. Colonies may be discovered of sight, tucked up between upright gaps, and/or in attics, crawlspaces, in hollow block and other dark, protected places of the home or building. Numerous people will employ a professional bat control specialist for their bat problem to attend to this type of issue.

Bats in the living areas. Bats will often find themselves within homes, offices, warehouses, supermarkets and other unwanted, indoor facilities. Inside bats are oftentimes the result of doorways or windows being left opened, though it is not unusual for bats to find a way into a building through duct systems and cracks between ceilings and walls.

Bats on the ground. Most bat control species do not favor "roosting" on the ground. Assume bats on the ground, about or in your building, is sick, possibly with the rabies virus.
Desert Wildlife Services will manage any of the preceding bat situations, with humane bat control for all bat problems. Desert Wildlife Services is a Bat Conservation International "Approved Bat Exclusion Professional," and Certified Wildlife Control Professional, through the National Wildlife Control Operators Association.